It was the wettest March-May on record for our area, but I am slightly concerned about hot and dry weather in our extended forecast.
Expected response-"but Dave, it's rained almost every day lately!  We don't need any more rain! What we need is dry weather and heat!"
Ok, I get it, we do need some dry weather for crops that were underwater.  I hear that, but consider this. A great deal of our moisture was received as snow, sleet, and hail. Do you remember when it hailed for hours back in April? The ground did absorb some of this moisture, but a good part of our early season moisture ran off into rivers rather than the subsoil where we desperately need it since last summer's drought depleted this resevoir of water. Let's not forget how frozen the ground was as well.
Here's the summary of June rainfall so far:
June total for Sioux City: 1.69″          (Avg. is 2.25″)
Year: 15.02″            (Avg. is 12.23″)
Last year at this time we had also seen over 15 " of liquid equivalent precipitation, but after May the rain basically stopped and the extreme heat and drought depleted virtually all soil moisture by the late summer. What's different this year is that the subsoil moisture is more depleted, but heat and dry weather has held off until probably the end of this month now.
Notice the improvement in our drought status (earlier this year we were still considered in "exceptional drought"
Check out the extended temperature outlook courtesy of the climate prediction center: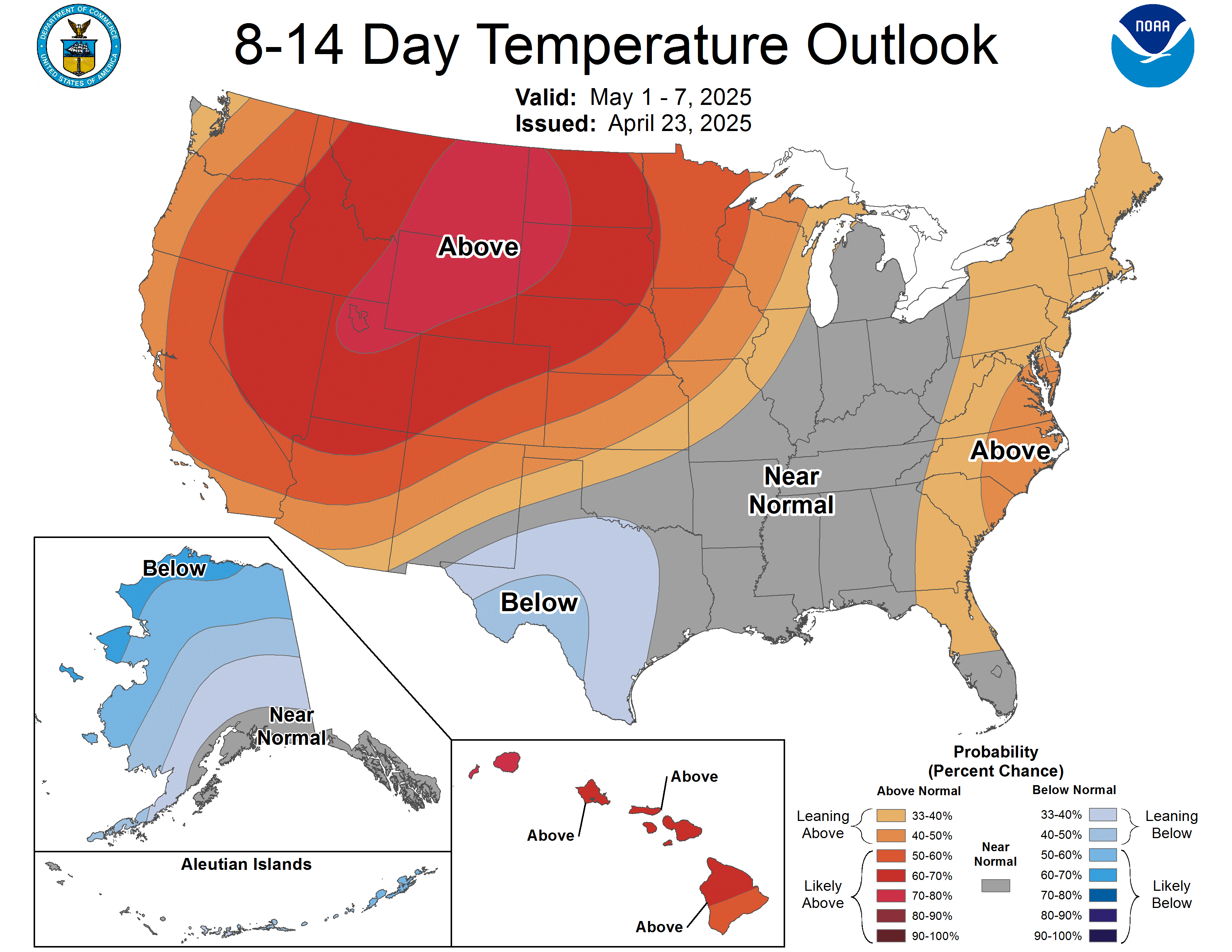 What I see happening is the main storm and rainfall steering jetstream will head up into North Dakota and Manitoba, cutting off our rain chances next week and keeping subtropical air parked over the Plains and Midwest.  For farmers, gardeners, and lawn perfectionists we'll have to wait and see how this all pans out but get ready for hot weather!
Meteorologist Dave Winslow
Posted under Gardening, Uncategorized, Weather, Weather Blog
This post was written by rdemers on June 18, 2013